There is ALWAYS a Seat for You at the Table!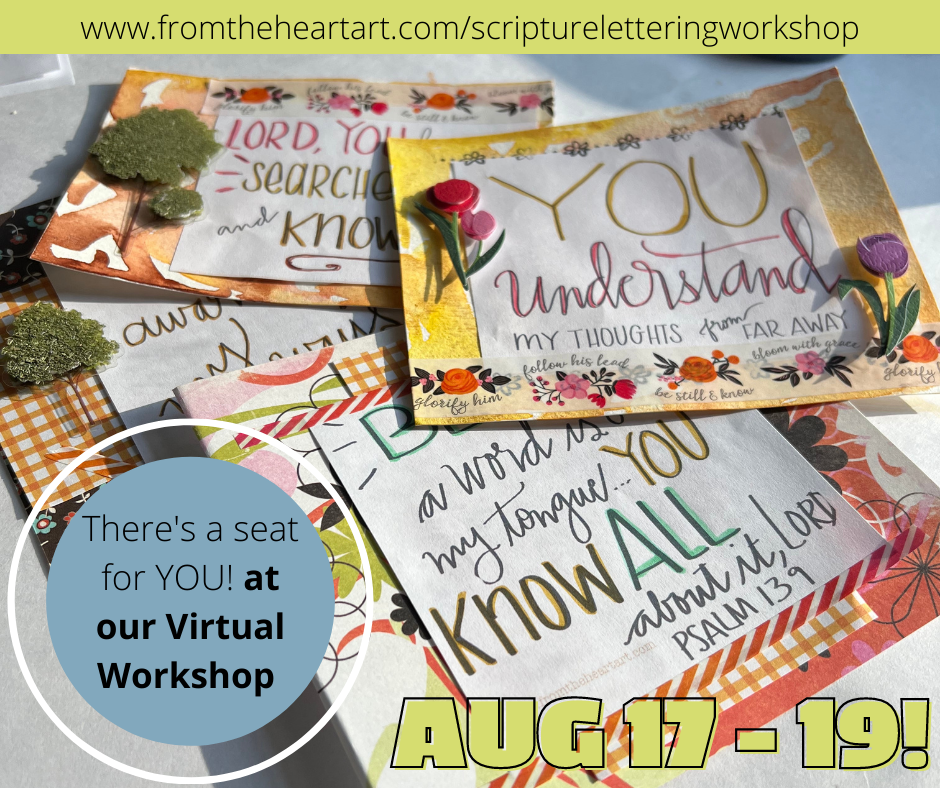 For years, I've been able to use my creativity as a tool…
To help me break down Bible verses to gain a better understanding.
To help me memorize scripture & write them on my heart and renew my mind.
For prayer journaling.
For making uplifting gifts with scripture verses. 
For stress relief and to help me process things happening in my life. 
I have time set aside in August and I would love to invite YOU to join me at my creative table for a Three Day Creative Workshop!
I will guide you in using your God-given creativity as a tool for your own life to renew your mind, for scripture memory, prayer journaling, gifts for others and even STRESS RELIEF!
** Please join me August 17th - 19th! **
I would love the opportunity to…
+  guide you in using some simple lettering techniques to enhance your own handwriting
+  show you how the art of practice can be used to help write the Word on your heart & mind
+  introduce you to some of my favorite tools
+  create some scripture journal pages together
+  help you determine where you are on your own creative journey, find your why and get next steps
We will meet daily August 17th - 19th from 11 am to 12:30 pm CST in a private Facebook group.
If you can't make it for the Live, it's okay!  The replay will be available for you in the group! It is only a one time fee of $15, you can sign up here https://fromtheheartart.com/products/lemonade-creative-hearts-lettering-week. Come join me at the table and meet other like-minded women who are tapping into their creative talents as well!
There is room for you at the Creative Table! 
---